Moto E series is back in its fifth generation, promising high value in cost and performance that shows little compromise. The entry-level Moto E5 Play sells for around $70 with prepaid service, but can be had for free if you transfer your number to Cricket. The slightly more-capable Moto E5 Plus can be purchased for as little as $180. But will these two phones manage to impress us with anything else beyond their pricing, and what are the alternatives at these two price points? Let us dive in and find out.
In the box:
Moto E5 Play/Moto E5 Plus
Micro-USB cable with 10W rapid charge adapter (Moto E5 Play)
Micro-USB cable with 15W TurboPower adapter (Moto E5 Plus)
Warranty and manual booklets
Design
The Moto E5 Play looks and feels like a typical low-cost, entry-level
_phone_
– with a removable back made of textured plastic and a display surrounded by prominent bezels. Its looks are far from awe-inspiring, but the curved sides and corners make the handset feel good in the hand.
Meanwhile, the Moto E5 Plus borrows a few trendy design traits that make it look cooler, including a glass back and a taller, 18:9 display with slimmed-down bezels. It is a bit on the heavy side, though, while the glass back – although pleasant-looking with the way it reflects light – is more prone to scratching.
Both the E5 Play and E5 Plus sport the poker-chip-like protrusion which encircles their optics, and both have solid feels to the power and volume buttons; we're glad to see a consistent experience there. Both also have fingerprint scanners in the rear and feature water-repellence – a feature that can help at least some with minor splashes, but does not make the phones submersible in water.
Moto E5 Play
Moto E5 Play
Moto E5 Play
View more


+ 7 images
5.94 x 2.91 x 0.35 inches
151 x 74 x 8.85 mm
5.29 oz (150 g)
Motorola Moto E5 Play
6.37 x 2.96 x 0.37 inches
161.9 x 75.3 x 9.35 mm
7.05 oz (200 g)
Motorola Moto E5 Plus
5.86 x 2.98 x 0.34 inches
148.8 x 75.8 x 8.6 mm
6.07 oz (172 g)
Nokia 6 (2018)
6.06 x 2.85 x 0.33 inches
153.8 x 72.3 x 8.3 mm
5.89 oz (167 g)
Motorola Moto G6
Display
Moto E5 Play (top), Moto E5 Play (bottom)
The Moto E5 Play and E5 Plus's displays won't be the most impressive you've seen. At 5.2 inches and 6 inches respectively, the E5 Play produces 282 ppi with HD resolution (720 x 1280) while the E5 Plus comes in at 268 ppi with an HD+ resolution of 720 x 1440. In other words, it won't be hard to see pixelization on either of these devices, though the Plus does appear more vivid.
Nevertheless, these screens get the job done in most lighting situations. Able to exceed 550 nits, the E5 Plus won't give you any trouble in direct sunlight. The E5 Play, on the other hand, does noticeably worse in direct sunlight, only able to reach 390 nits.
In terms of color reproduction, both displays portray decent color with a slight tendency to tint blue. Interestingly, we found the colors on the E5 Play to be slightly less prone to this tinting, albeit less vibrant and dynamic overall.
Display measurements and quality
Maximum brightness

(nits)

Higher is better

Minimum brightness

(nits)

Lower is better

Contrast

Higher is better

Color temperature

(Kelvins)

Gamma
Delta E rgbcmy

Lower is better

Delta E grayscale

Lower is better

Motorola Moto E5 Play
390


(Average)

4


(Excellent)

1:1306


(Excellent)

8343


(Poor)

2

4.62


(Average)

7.31


(Average)

Motorola Moto E5 Plus
559


(Excellent)

7


(Good)

1:1718


(Excellent)

9568


(Poor)

2.51

5.13


(Average)

9.35


(Poor)

Nokia 6 (2018)
449


(Good)

1


(Excellent)

1:1224


(Good)

8738


(Poor)

2.21

4.88


(Average)

7.76


(Average)

Motorola Moto G6
573


(Excellent)

5


(Excellent)

1:1159


(Good)

8579


(Poor)

2.36

4.91


(Average)

8.21


(Poor)
View all
Interface and Functionality


Image:

1

of

14
In typical Moto fashion, the Moto E5 Play and E5 Plus run a clean, bloat-free version of Android 8.0. Iconography, menus, and general interface aesthetics don't differ much from what you'd find on an Android One handset, which can be helpful for keeping things light and nimble, while also generally looking cohesive and familiar. It also shouldn't hurt when Android updates come along due to the minimal tweaking needed to receive such an update, but unfortunately, that doesn't guarantee that Android updates will come to these two in a timely manner.
The lone additional app within this Android experience goes by the name "Moto." This app, however, has done some expanding by adding a performance boosting tab with tools for space and battery saving alongside the typical Moto Actions and Moto Display, which have remained the same in terms of their feature set. Last year we saw the introduction of Moto Display's more interactive lockscreen features, which allow users to see and do more with notifications presented on the lockscreen as well as a night mode to eliminate blue light. Both are still quite useful, as are gestures to launch the flashlight with two quick chops or the camera with two shakes of the wrist. All of this is found within the Moto app in a neat and easily accessible interface.
Unfortunately, moving the fingerprint sensor to the back has eliminated gestures like those which could replace the navigation keys on the E4 series. Not a huge loss, but the feature had its fans.
Processor, Memory, and Performance
The Moto E5 Play comes with 2 gigs of RAM, 16 GB storage, and Qualcomm's Snapdragon 425 chip while the E5 Plus notches that up by adding one more gig of RAM, doubling storage capacity, and opting for the SD 435 instead. Both are expandable via microSD cards – up to an additional 128 GB – which is good since the 16 GB E5 Play only has about 8 gigs available.
These chips are generally meant for lighter workloads, and pushing the 720p graphics on a lightweight Android interface proves that the right combination of software and hardware can deliver speed and fluidity in most any task. Will gaming be the best experience on these phones? Certainly not, and not all movement through the OS will be buttery smooth either. However, you won't run into much hanging or lag on either handset throughout your regular use. Multitasking switches quickly, apps launch in a timely manner, and in general it will be hard for users to create situations where they'll long for better performance – again, save for gaming, which can be a little rough, but more than doable. Loading times and dropped frames will be the biggest turn-off here.
Performance benchmarks
JetStream

Higher is better

GFXBench Car Chase on-screen

Higher is better

GFXBench Manhattan 3.1 on-screen

Higher is better

Geekbench 4 single-core

Higher is better

Geekbench 4 multi-core

Higher is better
View all
Connectivity
On the connectivity front, you'll pretty much find the requisite features here – no glaring omissions or surprising additions. Both the Moto E5 Plus and E5 Play have dual-band Wi-Fi, Bluetooth 4.2, and 4G LTE capability – but no wireless charging and no NFC for mobile payments. It is common for entry-level phones to omit the last two, although competitors like the Nokia 6.1 do have NFC.
Camera

In the camera department, you'll encounter two fairly different setups. On the Moto E5 Plus, you'll find a 12 MP snapper with PDAF (Phase Detection Autofocus) and Laser Autofocus with an LED flash packed into its camera hump. The E5 Play is a bit more basic with its bare-bones, 8 MP sensor and LED flash. Images shot on these phones are pretty distinctive as well.

As far as image quality goes, the Moto E5 Plus and E5 Play have about the same adeptness in dynamic scenes – shots will be for the most part passable, but with both there's a tendency of highlights coming out overblown. You'll find better contrast and more saturated colors on the E5 Plus's photos, as well as better detail capture. Overall, both phones capture usable photos in favorable conditions.

Moto E5 Play and E5 Plus sample images
Moto E5 Play
Moto E5 Plus
Moto E5 Play
View more


+ 23 images
The E5 Play does display a noticeable bit more trouble in focusing lower-light shots than the E5 Plus, as evidenced by the discernibly blurrier shots it captures in such scenarios. Generally, you'll also notice more grain in low-light photos taken on the E5 Play versus the E5 Plus.
The E5 Play sports a 5 MP front-facing camera with flash, while the E5 Plus opts for 8 MP's with flash. Selfies taken on these two cameras will be similarly mediocre, but the E5 Play actually seems to capture better detail and less blur than the E5 Plus, though the Play shows clearer struggles with exposure than the Plus does.
Camera speed
Taking a pic

(sec)

Lower is better

Taking an HDR pic

(sec)

Lower is better

CamSpeed score

Higher is better

CamSpeed score with flash

Higher is better

Motorola Moto E5 Play
2.71

5.8

591

275

Motorola Moto E5 Plus
1.72

4.86

597

335

Nokia 6 (2018)
1.8

2.2

257

267

Motorola Moto G6
2.15

2.50

667

679

View all
Video
Video recording tops out at 1080p resolution on both the E5 Play and E5 Plus. Generally speaking, both of these devices record video with mostly accurate, albeit a bit anemic color reproduction and average detail quality. As is the case with photography, video capture struggles a bit with exposing brightly lit scenes, as well as those in darker settings, which appears to also be a contributing factor to the somewhat lackluster colors. Suffice it to say, neither of these phones are going to produce the most visually compelling footage the world has ever seen, but there are some noteworthy differences between the two.
Most immediately apparent is the Moto E5 Plus's software-based video stabilization. This generally does a decent job of stabilizing your footage and makes an enormous difference in recording quality, especially when comparing the E5 Plus and E5 Play. This is something sorely missed on the E5 Play, the absence of which creates videos that are a bit frantic and jumpy even when trying your best to have a steady hand.
Moto E5 Play and E5 Plus Sample Videos
Moto E5 Play Sample Video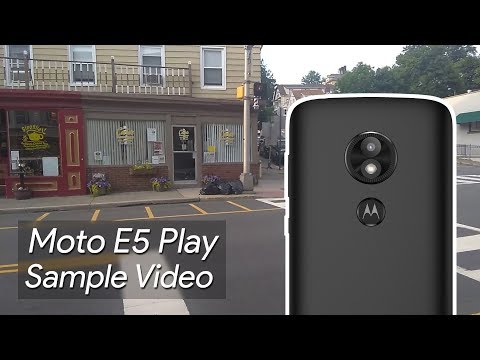 Moto E5 Plus Sample Video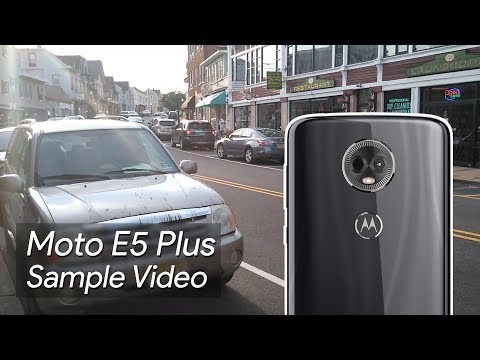 Moto E5 Play Sample Video 2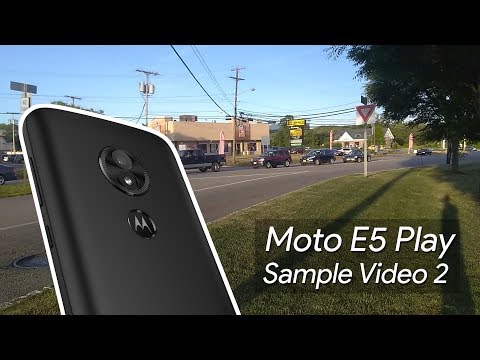 Furthermore, the E5 Play's audio recording could be quite troublesome. While most recordings came out properly, albeit sounding rather digitized, more than once, we did have instances where audio recordings cut in and out, sounding extremely compressed and low-quality throughout. Hopefully this isn't the case on all Moto E5 Play units though, as such instances will completely ruin the recording.

Finally, just like in the case of image quality, the Moto E5 Plus eeks out slightly better colors and exposure than the E5 Play overall.


Call Quality

Call quality on these handsets is pretty good. We had no glaring issues with signal or reception, but the earpiece, which doubles as the speakerphone, could certainly use a few more decibels of output – in both regular and speakerphone calls. Other than this, we thankfully don't have much to complain about.


Sound

Both the E5 Plus and E5 Play utilize earpieces that double as speakerphones. While they'll be OK for watching videos alone, you'll struggle to entertain multiple viewers with this demure speaker setup. Audio from the speakers generally sounds poor.



Audio output
Headphones output power

(Volts)

Higher is better

Loudspeaker loudness

(dB)

Higher is better
View all
Battery Life
The Moto E5 Plus and E5 Play both turned in formidable results when it came to battery life. The E5 Play's 2,800 mAh battery gave us a very amenable result in our custom battery drain test, depleting from 100 to 0 in just over eight hours.
The E5 Plus is the real champ here, though. Packing an enormous, 5,000 mAh battery, the E5 Plus nearly doubled the Play's performance in our custom test, draining from 100 to 0 in just over 15 hours. We were able to easily move through a second day of use with the E5 Plus, whereas the E5 Play could safely make it through just one.
With regard to charging times, the Moto E5 Plus will of course require much more charging time than the E5 Play, but the Plus does include a TurboPower adapter which the E5 Play does not. Charging the Plus from 0 to 100 still takes some time though – 5 hours and 15 minutes to be exact. The E5 Play charges up in two hours and 14 minutes.
Battery Benchmarks
Battery life

(hours)

Higher is better

Charging time

(minutes)

Lower is better
View all
Conclusion
So, the final question: where do these phones land? First, let's talk about the E5 Play.
The E5 Play retails for around $70 on Verizon Wireless and Boost Mobile, while Cricket subscribers can even get the
_phone_
for free. This puts the E5 Play in a rather non-competitive space, as most other $70 phones will be much more frustrating to deal with than the E5 Play in most ways. However, the flawed audio recording in videos has us pretty upset, especially when the Play runs well and gets the job done well enough in other categories.
As for the E5 Plus, it's a bit of a tougher sell. It is priced at $180 on Cricket and $288 on Sprint, and within this price range you have alternatives from Nokia – the 6 and 6.1 namely. There's also Moto's own G6. All of these offer similarly clean Android experiences, better looks, and potentially better cameras. The only solid reason for picking the E5 Plus instead is its long battery life. Lastly, we can't forget the still formidable iPhone SE selling for less money than the E5 Plus too – if size and OS is no matter to you, of course.